Good Quality Stainless Steel Weld Neck Flange/Thread Flange/ Blind Flange/ Socket Weld Flange
Flange Types:
Slip-On Flange, Welding Neck Flange, Blind Flange, Socket Welding Flange, Threaded Flange, Lap Joint Flange, Plate Flange ,Light weight flanges,Square flanges Orifice flanges,long welding neck flanges,spectacle blind flanges reducing flanges etc;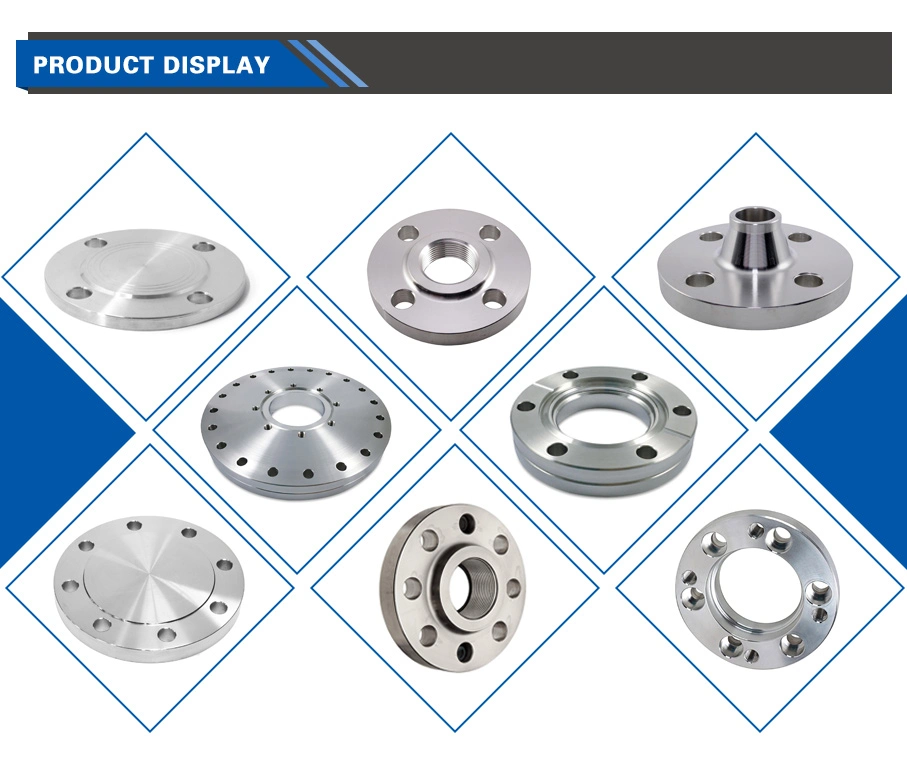 Flange Standard:
(1) ANSI B16.5, 150LB / 300LB / 600LB / 900LB / 1500LB / 2500LB/MSS SP44/AWWA C207
(2) DIN 2573 PN6 / DIN 2576 PN10 / DIN2502 PN16 / DIN2503 P25-40 / DIN2566 PN16 DIN2631-2635 ,DIN86029,86030
(3) JIS SS400 OR SF440 5K / 10K / 16K / 20K / 30K
(4) UNI 2276 / 2277 / 2278 / 6084 / 6089 / 6090 / 2544 / 2282 / 6091-6093
(5) EN1092 PN6 / PN10 / PN16 / PN25 / PN40 / TYPE1 TYPE2 TYPE 5 TYPE 12 TYPE 13
(6)BS4504 PN10,PN16,PN25,PN40, T/D, T/E, T/F
(7) AS2129 T/ D ,T/H / T E


Material:ASTM A36,A105,A182 F1/F2/F11/F22,A182 F304/304L,316/316L ,A350 LF1/LF2

Surface finished: Antirust oil, black / yellow painting ,electric galvanized ,hot dipped galvanized,epoxy powder painting.




1.ISO9001-2008.
2.Has advanced euipment and over 15 years experience.
3.price: competetive price , Precision made.Experience & Reasonable QC that you can reply on.
4. Process: Precision made.Experience & Reasonable QC that you can reply on Each part would be given 100% test and tryout before shipment.
5. Adequate supply capacity. Punctual delivery time.Forging: We can provide forged ring, open-die forging, forged shaft, forged bush, forged shape, drop forging, precision forging, hot-pressed part, upset forging, hot-upset part, forging casting, forged disc, perforated disc.



Q: Why choose Shengao product?
A: We shengao have our own plant-- Weifang Shengao machinery Co., Ltd, therefore, we can surely promise the quality of every product and provide you comparable price.
Q: Do you provide OEM Service?
A: Yes, we provide OEM Service.
Q: Do you provide customized pump impeller?
A: Yes. Customers give us drawings and specifications, and we will manufact accordingly.
Q: What is your payment term?
A: We provide kinds of payment terms such as L/C, T/T, Paypal, Escrow, etc.



If there's anything I can help, please feel free to contact with me.




Quality First, Pric Best, Service Foremost!




We assure you of our best services at all times!